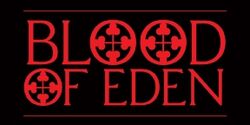 Blood of Eden is a Young Adult dystopian vampire novel series written by Julie Kagawa, author of The Iron Fey series. The first book, The Immortal Rules was published on April 24, 2012 by Harlequin Teen. The next book in the series is The Eternity Cure.
The Immortal Rules
Edit
Main article: The Immortal Rules
My Vampire creator told me this: "Sometime in your life, Allison Sekemoto, you will kill a human being. The question is not if it will happen, but when. Do you understand?
I didn't then, not really. I do now.
In a future world, Vampires reign. Humans are blood cattle. And one girl will search for the key to save humanity. She must decide what-and who-are worth dying for.
The Eternity Cure
Edit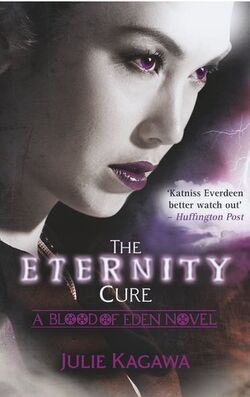 Main article: The Eternity Cure
"Who are you trying to fool? People are food. ... You're not any less of a monster than I am." -Jackal
Newly-turned vampire Allison Sekemoto must follow the call of blood, like breadcrumbs, to save her sire and mentor Kanin from Sarren, the psychotic vampire holding him captive. The trail leads Allie to her old home in New Covington and the Fringe, but there's no time for nostalgia.'
A new strain of Red Lung—the insidious virus that decimated the human population decades ago—has emerged. This time, it's fatal to vampires, too. A cure might be among Kanin's many secrets—if Allie can reach him in time.
But when the brave, fearless human boy she left safely behind re-enters her life, Allie is torn between the remnants of her humanity and the bloodthirst that consumes her. How can two people so different feel so much for each other? One was born good. The other was reborn a monster. It's a love as undeniable as it is impossible.
The Forever Song
Edit
Main article: The Forever Song